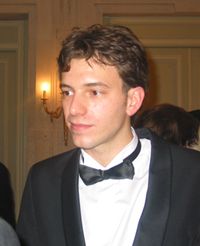 David Emmanuel de Bernières (born 2 March 1980) is a French-born Julianan architect and the pretender of the monarchy of Juliana.
Biography
Edit
Born in Lyon, France to André de Bernières and Cristina Domecq Anasagasti, his father was pretender to the former Julianan monarchy from 1946 until his death in 2011. After his father's death, David became the new pretendent. By some monarchists, he was hailed as David I. His grandmother was Princess Giulia and his great-grandfather was King Danilo III.
David does not make any claim to the former throne of Juliana. However, he remains close with the royal families of other IWO member states, which are all related to him. David is a 5th cousin of King Hendrik I of Libertas, a 5th cousin once removed of Enrico Basile (the claimant of the Traspesian royal family), King Jean-Louis II de Cettatie, Queen Marianna I of Strasland and King Edward I of Kemburg, and a 6th cousin of Queen Helene of Brunant and King Sebastian I of Lovia.
Architectural career
Edit
Since 1986, David resides in Juliana. Before this, he lived in London and Paris. He studied architecture at the University of Pisona in 1998. He was the designer of Porta Shopping Centre, built in 2010.
Marriage and children
Edit
In 2008, he married Silvia Portas Cabral (1980), a Portuguese-born model, with whom he has two children:
Clarissa de Bernières (2010)
André de Bernières (2013)
Community content is available under
CC-BY-SA
unless otherwise noted.