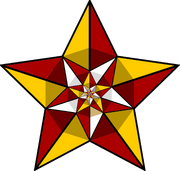 Hours can be lovingly poured into a project, with consistent citation of both fictitious and real sources. These pages come to represent the land of Juliana.
To honor these pages (and, almost more importantly, the users who put lots of dedication in making these pages come to life), the leadership of Juliana Wiki has decided to reward these pages as Featured Articles.
Nomination Process
Edit
These articles will be decided upon by the whole community and are to reflect (at least relative) completeness and high-quality written ability.
For a page to become a Featured Article, it must meet all of the Criteria for Nomination, at which time it will be considered a "good article." From there, any user may nominate a "good article" to become a Featured Article, by placing the template Candidate for Featured Article at the top of the page, and then including a write-up on this page.
Since only one page can be declared a Featured Article per month, all of the nominations will last until the 1st of the next month, at which time the nomination with the most votes shall be awarded Featured Article status.
Criteria for Nomination
Edit
In order to be valid to be nominated
Current Nominations
Edit
Please, all nominations must follow this format:
<Page Name Here>
Edit
Nominating User: <Name Here>
Reason Why: <4-5 Sentences>
Pro:
Con:
Discussion

 <All discussion on the nomination is to be found here>
Featured Articles
Edit
Pretana - November, 2014
Community content is available under
CC-BY-SA
unless otherwise noted.