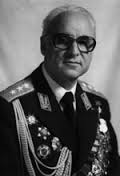 Peter Rozman
 (1897 to 1981) was the most imporant leader of the
Julianan People's Army
. He was a colonel general and the commander of the military from 1954 to 1979. He is famous because
he had the most medals of any military soldier
in Juliana.
Biography
Edit
Peter Rozman joined the military of Juliana in 1918 and then joined the communist partisans in 1944. He was the second most important person of the government, Anton Berčič was the first. But, when Berčič died in 1976 the government elected Peter Kaspar, because he was younger and Peter Rozman was already suffering from age-related health issues.
General Rozman was declared a Hero of Juliana twice, setting the record that would never be broken throughout the rest of the history of the Julianan People's Army.
Community content is available under
CC-BY-SA
unless otherwise noted.