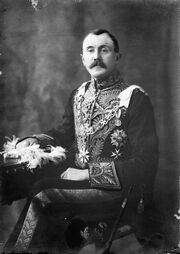 Pietro I of Juliana (20 September 1830 - 31 August 1902) was the King of Juliana from 1874 until his death in 1902. He was the second child en first son of Marco I of Juliana and Christine of Libertas. He was succeeded by his son Danilo. He was married to Maria Giovanna of Tuscany, but she died in childbirth. Pietro never married again.
Pietro changed the family name from Leiningen-Dagsburg to di Juliana. Pietro is a four-times great-grandson of King Marten I of Brunant via Daniel of Leiningen-Dagsburg and Louisa Alexandra of Brunant. Through his mother he is both a three and four times great-grandson of Marten via both her parents (Pietro's maternal grandparents).
Community content is available under
CC-BY-SA
unless otherwise noted.