San Pietro

Historical facts
Alternate names
Svetnik Péter
Founded
1323
Patron Saint
Information
Province
Svetnik Péter
Population
7,900
Mayor
Postal code
8000-8600
San Pietro is the fourth largest city of Juliana and is also the capital of the Avia Province. Known for its scenic, pasture-like qualities that lead to frequent comparisons to Switzerland, San Pietro is also home to some of the largest industrial companies in Juliana.
The economy of San Pietro is based around three main industries: tourism, agriculture, and light manufacturing. Some beer is produced here, most notably Sanpietro. The Forteno supermarket chain started in San Pietro.
San Pietro is home to San Pietro 1930, a Liga 1 Juliana football team. This is one of the oldest teams to have been consistently owned by a single family for the duration of its existence; the Domenico family both established the club in 1930 and has continued to own, operate, and manage the club for the past 80 years.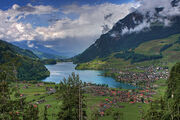 Demographics
Edit
Mostly Italian.
Post/Telephone
Edit
The postal code of the city of San Pietro itself ranges from 8000 to 8600, while the surrounding region ranges from 8601 to 8999. The postal rate to all nearby regions is markedly lower than national postage rages.
Telephone prefixes for the city of San Pietro range from 50 to 57; the surrounding area has telephone prefixes of 58 and 59. The official telephone of the municipal government is 50 2000, and can be reached toll free from landlines.
Community content is available under
CC-BY-SA
unless otherwise noted.