Sveta Lucia

Historical facts
Alternate names
Founded
1650
Patron Saint
St. Lucia
Information
Province
Population
2,985
Mayor
Postal code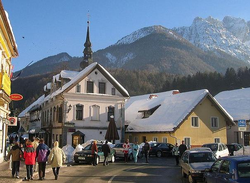 Sveta Lucia is a beautiful old town of Juliana and it is in Lucijana Province. Sveta Lucia is the smallest city of Juliana and it only has 2,985 people but it is a popular ski town. In the winter a lot of people come to Sveta Lucia and especially wealthy people of Europe.
In Sveta Lucia there is two ski resorts, Bela Gora and Luciana Ski Resort.
Sveta Lucia is old, founded circa 1650 to 1680 but most of the houses of the town are of the 19th century and 20th century.
Sveta Lucia was built between 1650 and 1680. Carlo I of Juliana had a small house made here, where he would go to hunt. With his death his house was torn down, but the workers and servants remained and soon a church and later an abbey were built.
Mining became an important sector in the local (and national economy), centered around zinc mining. Mines spread up over the 18th and 19th century, and the later discovery of Cobaltite brought further wealth to the town.
Mining history
Edit
Mines have been in the area of Sveta Lucia since the early 18th century. Zinc and later cobalt were mined; fumes from the arsenic coming from cobalt contributed to illness and death in the town. Until the 20th century 60% of the local economy was centered around mining. Since the 1950s and 1960s mining has been in decline, with most of the cobaltite ores having been mined.
In recent years mining in the area has seen automation in use, to better access the ores in further deeper areas.
Some of the mines in the area of Sveta Lucia are:
Monuments
Edit
Abbey of St. Lucia
Severna ulica 2
Motorway/Severna ulica
Ferdinand Palant
Severna ulica 1
FOR SALE
Severna ulica 3
Town Hall
Cerkev ulica 2
*1
Church Park
*2
FOR SALE
Severna ulica 5
Federal Police
Severna ulica 7
Market Plaza
St. Lucia Church
Cerkev ulica 4
FOR SALE
Cerkev ulica 6
Juliana's Mart
Cerkev ulica 8
Church Street/Cerkev ulica
FOR SALE
Cerkev ulica 1
Fresco
Cerkev ulica 3
FOR SALE
Cerkev ulica 5
FOR SALE
Cerkev ulica 7
FOR SALE
Cerkev ulica 9
FOR SALE
Cerkev ulica 11
FOR SALE
Cerkev ulica 13
Fountain Plaza
Sports Complex
Demokracija ul. 2
FOR SALE
Demokracija ul. 4
FOR SALE
Demokracija ul. 6
FOR SALE
Demokracija ul. 8
FOR SALE
Demokracija ul. 10
FOR SALE
Demokracija ul. 12
Democracy Street/Demokracija ulica
NG-Mining
Demokracija ul. 1
FOR SALE
Demokracija ul. 3
FOR SALE
Demokracija ul. 5
FOR SALE
Demokracija ul. 7
FOR SALE
Demokracija ul. 9
FOR SALE
Demokracija ul. 11
FOR SALE
Demokracija ul. 13
FOR SALE
Demokracija ul. 15
- Croatian Street
- Abbey Street
Twin Cities
Edit
Sveta Lucia is twinned with the Brunanter locality of Cornel since 2015. It is also twinned with the town of East Hills in Lovia. Also twinned with Wikigebergte in Libertas.
Community content is available under
CC-BY-SA
unless otherwise noted.